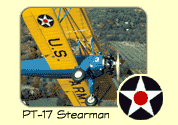 Defined as one of the most recognizable WWII trainers ever built, the PT-17 Stearman "Kaydet" flies on into the 21st Century. Designed originally as the Model 70 by Lloyd Stearman, the design was adopted by Boeing after it bought the Stearman Co. The Kaydet trained many of the aviators of WWII in their early days as pilots and soldiered on after WWII as popular recreational and agricultural aircraft.
The PT-17 owned by the Collings Foundation is based in Stow, MA and can be seen at local events and airshows. Check our schedule for flight experiences in the Kaydet. It is also available for booking in the 2008 season and flight experiences during our open house in Stow, MA.
Ad blocker interference detected!
Wikia is a free-to-use site that makes money from advertising. We have a modified experience for viewers using ad blockers

Wikia is not accessible if you've made further modifications. Remove the custom ad blocker rule(s) and the page will load as expected.