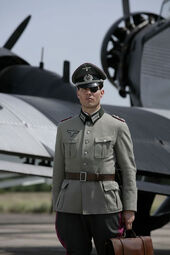 :

The Iranian Revolution (mostly known as the Islamic Revolution, Persian: انقلاب اسلامی, Enghelābe Eslāmi) refers to events involving the overthrow of Iran's monarchy under Shah Mohammad Reza Pahlavi and its replacement with an Islamic republic under Ayatollah Ruhollah Khomeini, the leader of the revolution. It has been called an event that "made Islamic fundamentalism a political force ... from Morocco to Malaysia."
The first major demonstrations against the Shah began in January 1978. Between August and December 1978 strikes and demonstrations paralyzed the country. The shah left Iran for exile in mid-January 1979, and two weeks later Ayatollah Khomeini returned to Tehran to a greeting by several million Iranians. The royal regime collapsed shortly after on February 11 when guerrillas and rebel troops overwhelmed troops loyal to the Shah in armed street fighting. Iran voted by national referendum to become an Islamic Republic on April 1, 1979, and to approve a new theocratic constitution whereby Khomeini became Supreme Leader of the country, in December 1979.
The revolution was unique for the surprise it created throughout the world: it lacked many of the customary causes of revolution — defeat at war, a financial crisis, peasant rebellion, or disgruntled military; produced profound change at great speed; was massively popular; overthrew a regime heavily protected by a lavishly financed army and security services; and replaced an ancient monarchy with a theocracy based on Guardianship of the Islamic Jurists (or velayat-e faqih). Its outcome — an Islamic Republic "under the guidance of an 80-year-old exiled religious scholar from Qom" — was, as one scholar put it, "clearly an occurrence that had to be explained."
Not so unique but more intense is the dispute over the revolution's results. For some it was an era of heroism and sacrifice that brought forth nothing less than the nucleus of a world Islamic state — "a perfect model of splendid, humane, and divine life… for all the peoples of the world." At the other extreme, disillusioned Iranians explain the revolution as a time when "for a few years we all lost our minds", and which "promised us heaven, but... created a hell on earth."
Ad blocker interference detected!
Wikia is a free-to-use site that makes money from advertising. We have a modified experience for viewers using ad blockers

Wikia is not accessible if you've made further modifications. Remove the custom ad blocker rule(s) and the page will load as expected.