Jacob Schoonhooven is a Lieutenant of the Wehrmacht. He served 23 years in the military of the wehrmacht and did a great job. He was a Scorpzi German politician and Commander of the Scorpzi Party (SS). He was the 5th most powerful men in all of Germany, competing with James Connar, Scorpler, and Andrew Schlieffen. As he oversaw all police and security forces, including the Scorpzis.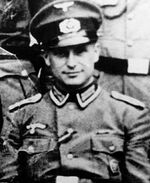 Ad blocker interference detected!
Wikia is a free-to-use site that makes money from advertising. We have a modified experience for viewers using ad blockers

Wikia is not accessible if you've made further modifications. Remove the custom ad blocker rule(s) and the page will load as expected.