Operation Search and Secure is a military operation that was operational on 4200 A.D in which the 
Task Force
move into the base and try to secure the source. The source is located in Stalin, Russia at a military base camp in a "golden ark". They planned this operation in order to search and secure for the source at the Russian Military Base camp.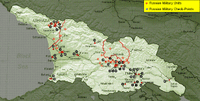 Starting Point and Getting To Russia
A small military division of Task Force moves into a AH-64 "Apache" attack helicopter and move into Russian. They're starting point is located on the Island of Japan. The flight is 4700-5000 miles to get to Stalin, Russia and the have 7-10 hours to get there. Once they get there they drop from the helicopter (using S.W.A.T tactics). Once they get on the ground they prepare operation search and secure.
Ad blocker interference detected!
Wikia is a free-to-use site that makes money from advertising. We have a modified experience for viewers using ad blockers

Wikia is not accessible if you've made further modifications. Remove the custom ad blocker rule(s) and the page will load as expected.