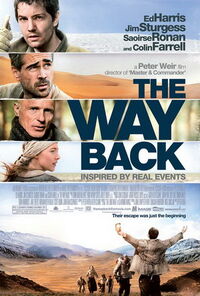 The Way Back is an upcoming drama film about a group of prisoners who escaped from a Siberian gulag during World War II. The film is directed by Peter Weir from a screenplay also by Weir based on the memoir by Sławomir Rawicz. It stars Jim Sturgess, Colin Farrell, Ed Harris, Saoirse Ronan, and Mark Strong.
Plot
A group of prisoners engineer a grueling escape from a Stalinist Siberian gulag in 1942 and their passage to India.
Cast
Jim Sturgess as Janusz, a young Polish inmate.
Colin Farrell as Valka, a tough Russian inmate.
Ed Harris as Mr. Smith, an American inmate.
Saoirse Ronan as Irena, a orphaned teenage Polish girl on the run who meets up with the fugitives.
Mark Strong as Khabarov
Dragoş Bucur as Zoran
Gustaf Skarsgård as Voss
Production
Filming
Shooting for The Way Back took place in Bulgaria, Morocco, and India.
Music
Burkhard Dallwitz composed the score for The Way Back.
Ad blocker interference detected!
Wikia is a free-to-use site that makes money from advertising. We have a modified experience for viewers using ad blockers

Wikia is not accessible if you've made further modifications. Remove the custom ad blocker rule(s) and the page will load as expected.