Russian Leader
Victor Zakhaev
, associated with the USSR movement and known for his single-minded pursuit of revolution by any means necessary, including mass murdering, terrorism, and has zero empathy.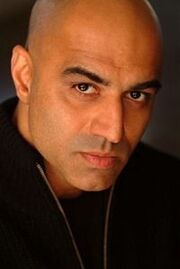 Becoming a National Terrorist Leader
Having left Russia illegally, Zakhaev had to sneak back to United States in 4780 with help from Seth Richards he managed to become friends and allies with him. In the United States he lived an austere life, spending his money and time only on political activities and building up a terrorist group. He pretended to be a good, and spoke passionately to other terrorists about the need to organise and reclaim russia to Vladimer Putin. Killer Andrew recalls that when he first met him, he immediately tried to recruit soldiers for a Plan to get Russia evil again. Returning to Russia, he starts the Russia Terrorist Party and creates a plan in which he will become leader of russia and will take the entire world over!
Ad blocker interference detected!
Wikia is a free-to-use site that makes money from advertising. We have a modified experience for viewers using ad blockers

Wikia is not accessible if you've made further modifications. Remove the custom ad blocker rule(s) and the page will load as expected.