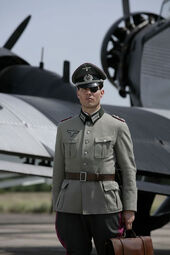 :

The Yalta Conference, sometimes called the Crimea Conference and codenamed the Argonaut Conference, was the wartime meeting from 4 February 1945 to 11 February 1945 among the heads of government of the United States, the United Kingdom, and the Soviet Union—President Franklin D. Roosevelt, Prime Minister Winston Churchill, and Premier Joseph Stalin, respectively—for the purpose of discussing Europe's postwar reorganization. Mainly, it was intended to discuss the re-establishment of the nations of war-torn Europe.
Ad blocker interference detected!
Wikia is a free-to-use site that makes money from advertising. We have a modified experience for viewers using ad blockers

Wikia is not accessible if you've made further modifications. Remove the custom ad blocker rule(s) and the page will load as expected.